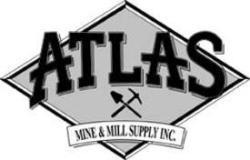 Your Online Source for
Used Mining & Milling Equipment



New paragraph


SPECIALIZES IN LATE MODEL, GOOD CONDITION,
USED MINING AND MILLING EQUIPMENT FROM
MINESITES THAT WE ARE DISMANTLING
AROUND THE WORLD

Atlas Mine & Mill Supply, Inc. has been serving the mining industry for over 40 years. We offer excellent values in good used mining and milling equipment from our extensive inventory. We have everything you need for all your underground mining and ore processing requirements, including complete mill circuits for sale.


Not finding what you need? Fill out our Product Request Form.

Choose a Product Category Below:

Agitators| Air Compressors & Generators | Air Tanks | Blowers | Bullion
Continuous Miners | Conveyors | Cranes | Crushers | Cyclones | Dust Collectors
Fans | Feeders | Filters | Flotation Cells | Forklifts | Hoists | Jumbos
Lab Equipment | Loaders | Locomotives | Mills | Mine Vehicles |Motors/Gear Boxes |Muckers | Pumps| Rock Breakers | Screens | | SeparatorsSlushers & Buckets | Specialty Items | Thickeners | Underground Trucks

Please contact us for additional information or pricing.

Contact Information

You can contact us by:

Mail: 3812 East Broadway,Spokane, Washington 99202
Phone: (509)535-2039
Fax: (509)535-2090

Email: sales@atlasminemillsupply.com

Email: ken@atlasminemillsupply.com

Copyright © 2010 Atlas Mine and Mill Supply Inc.
Quality Used Mining and Milling Equipment, Spokane WA
Questions? Email us at: sales@atlasminemillsupply.com